You're Going to Love This Guy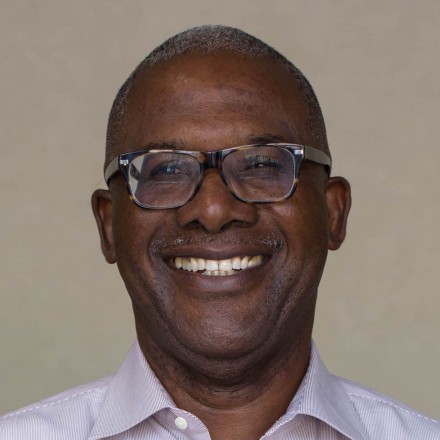 Julian Russell is leading the Christ Church Carrollton Parish Mission '18, November 9-11. His Bible text is Acts 11, and his talks are titled "Profile of a Bridge Builder." As Julian and his wife Chris prepare for their visit, we asked him to share a little about himself and his hopes for the mission.
Tell us about your family.
Wife Christiana (aka Chris); Son Andrew + (Stephanie) = (Judah, Naomi, Isaiah, Elijah – two went to be with the Lord); Son Jason + (Mindy) = (Eloise – she's with the Lord); Daughter Jamila
How did you and Chris first meet?
I met Chris at high school. We spent grades 11 and 12, and graduated together. I don't remember saying three words to her. Seven years after our graduation, I met Chris at a local park in our neighborhood. The rest was history.
What is your favorite pastime or hobby?
Swimming in the ocean; walking; reading
What's your favorite Dallas-area restaurant?
Faadi's (Mediterranean Restaurant)
What's your favorite movie?
"Moby Dick" (the 1956 version, with Gregory Peck and Orson Wells)
Besides the Bible, what three books would you want if you were stranded on a deserted island?
Wayne Grudem's Systematic Theology; Christopher Wright's The Mission of God; and a book of crossword puzzles, with a pen, of course!
What's your favorite thing about America?
It's sense of order, and its highway system.
What's your favorite thing about the Bahamas?
My roots; the ocean; my friends and relatives
Where and when were you educated?
I completed my M.Div. at Reformed Theological Seminary in Orlando, FL, and both my D.Min. and Th.M. at Covenant Seminary in St. Louis, MO. Prior to seminary, I worked as a computer professional for more than 20 years. Both Christiana and I attended St. Augustine's College (a local high school) in Fox Hill. I also attended the College of the Bahamas, and studied for my Masters level in Computer Science through the British Computer Society, England.
What's your favorite hymn?
"How Great Thou Art"
Besides the three persons of the Trinity, choose a figure from the Bible or church history. What are the one or two questions you'd most like to ask him or her?
Adam: "What were you thinking?", and "What motivated you to eat the fruit? Was it your love for Eve, or was it your not wanting to be alone?"
We're so excited to have you with us for our Parish Mission. What kinds of things would you like to see come out of it?
I'd love for all of us to grow as bridge builders, in and for Jesus Christ, like the church of Antioch in Acts 11. I'd love for all of us to become more and more passionate about sharing the gospel, in both word and deed, with our neighbors, especially the widows and orphans, the poor, the homeless, the sick, and the marginalized. That's my hope and prayer for Christ Church Carrollton and for my church, Covenant Life, here in the Bahamas.