Our Church Driveway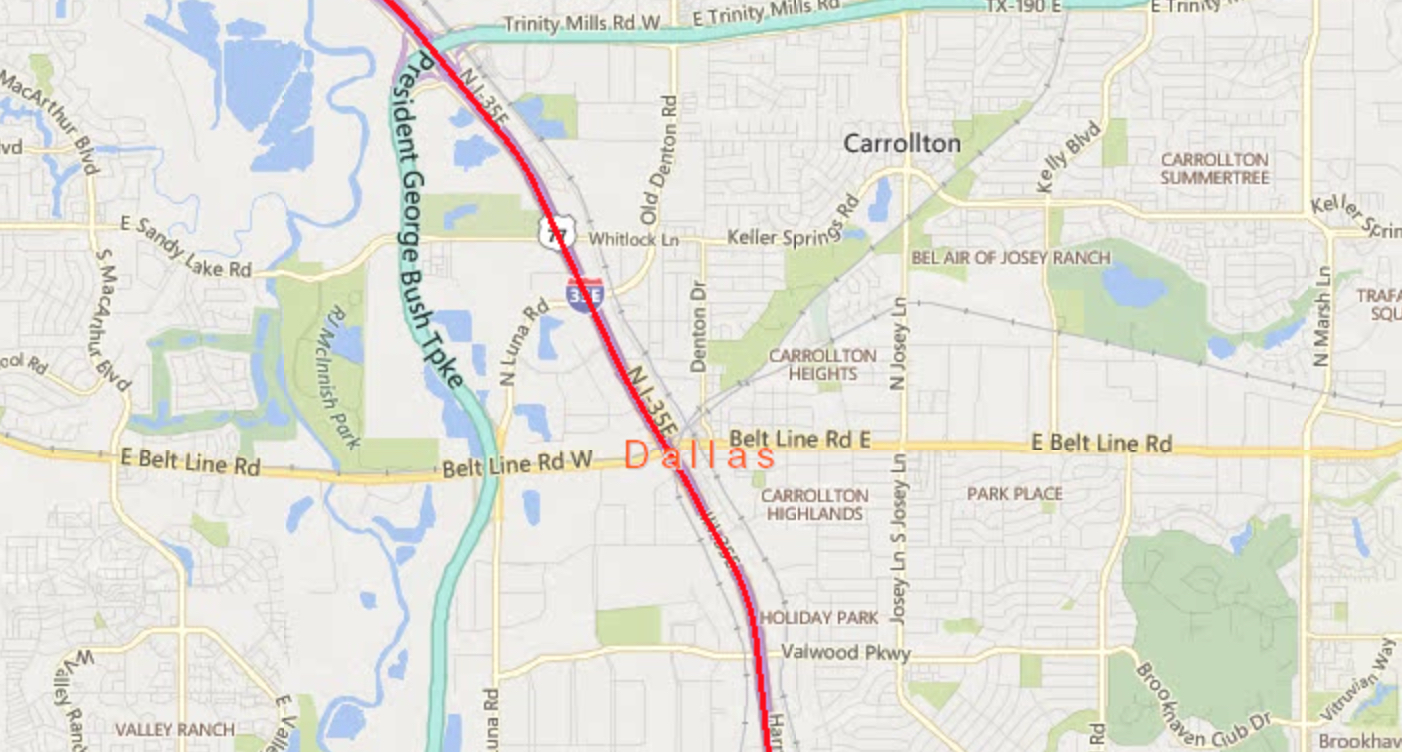 I often call I-35E Christ Church Carrollton's driveway.
Interstate 35 runs from Laredo, Texas, to Duluth, Minnesota, stretching 1,568 miles--virtually border to border--making it the nation's ninth-longest Interstate and the third-longest north-south Interstate. It splits between Hillsboro and Denton into 35W (through Fort Worth) and 35E (through Dallas). (Wikipedia)
Christ Church lies one block east of 35E, accessible via Northbound Exit 9 and Southbound Exit 443B. There are no statistics about the number of people who actually get to Christ Church via I-35E, but, more than stats, I-35E has become, to me, a symbol of our church's extraordinary location and extraordinary access to literally countless people.
I think about it every Sunday, as I look out our church's front doors, across our beautiful Square, and watch as cars and trucks pass by on the highway that literally towers above us. Who are the drivers? Where have they been? Where are they going? What are they thinking as they hurry by? What joy fills their hearts, or what sadness?
In one of Jesus' parables, he told of a man who "once gave a great banquet and invited many." One after another, the invited guests made excuses not to come. Finally, the exasperated man ordered his servant to "Go out to the highways and hedges and compel people to come in, that my house may be filled." (Luke 14:23)
Jesus' parable isn't suggesting that we should drag people to church at gunpoint! But that, when we share the gospel invitation, we should lift our gaze beyond our immediate circle--beyond the people who are most like us--and extend God's sovereign call to the vast crowd, those rushing by, lost, clueless, and bound, not for Duluth, but for destruction.
As for me, I love being the little church (1) on the Square and (2) by the Interstate. It's so like our missionary God to put both these powerful symbols right outside our front door--the first symbolizing deep intimate relationships, over many years; the other symbolizing radical inclusivity that is immediate, wide-open, and constantly changing.
To be honest, I'm still trying to figure out exactly what God wants us to do with the extraordinary access he's given us. But this much I know: together, you and I are called to make Christ Church Carrollton a warm, friendly, caring, welcoming, Jesus-proclaiming home to everyone who stops by, a place of rest and renewal, at the end of a very long driveway.
Dearest brothers and sisters, let's do all we can to make sure our master's house is filled to overflowing!