My Friend, Dustin Messer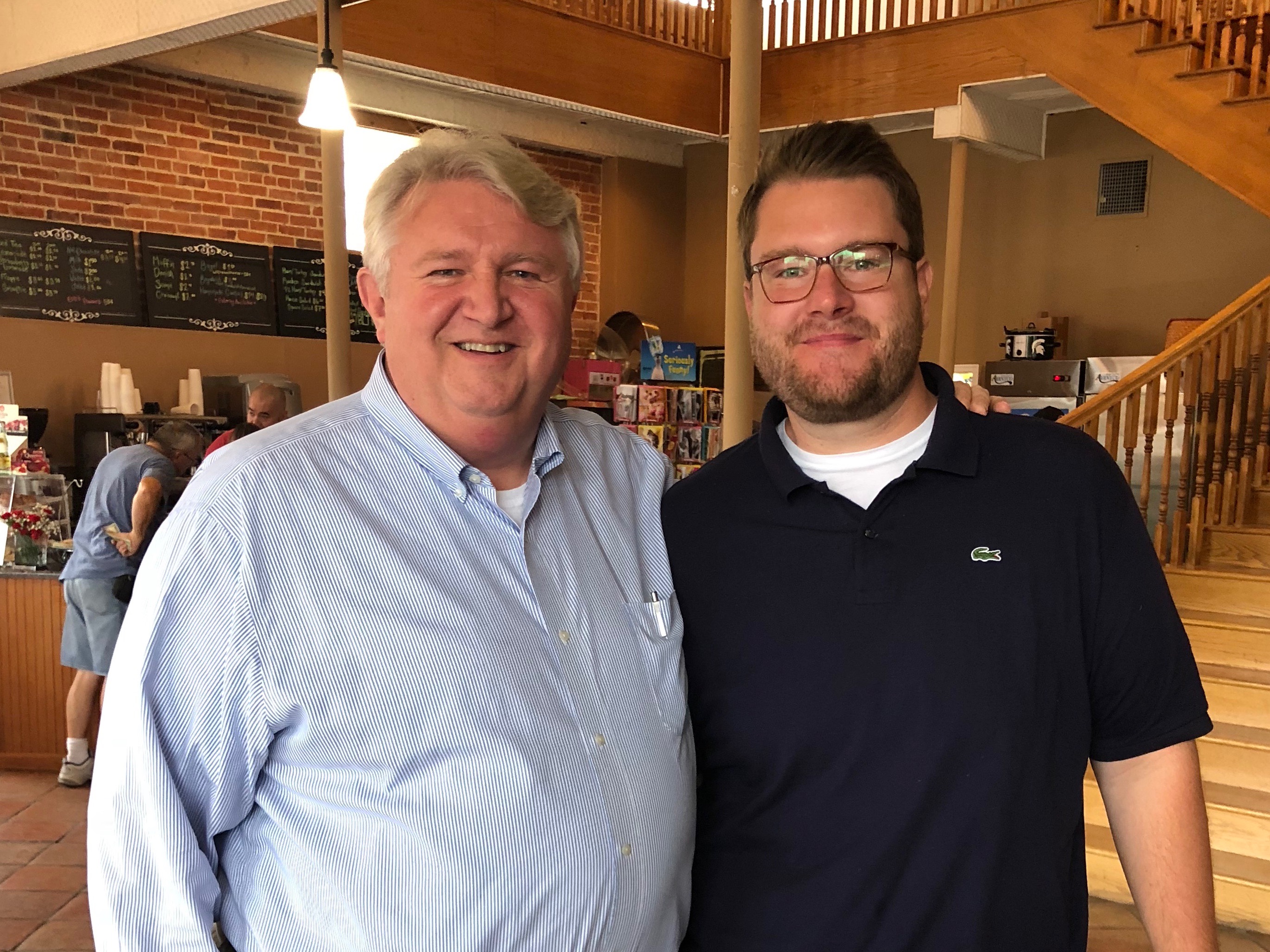 It was four years ago this month that I first met Dustin William Messer. On August 10, 2014, he and his awesome wife Whitney visited Christ Church Carrollton for the very first time. I loved them both instantly! Over coffee after the service, Dustin shared his interest in ministry and his curiosity about our church's background as Anglicans. I could tell right away that he was (and is) an exceptionally gifted young man--smart, funny, well-read, articulate, and passionate for Jesus. Within days of meeting, I was already thinking he'd be a great addition to our church's pastoral team.
On October 19, 2014, with the Session's blessing, Dustin preached his inaugural sermon at Christ Church, on Micah 1:1-16, "The Good News of Bad News." Besides revealing a remarkable talent for coming up with catchy sermon titles (!), Dustin also showed himself to be a solid preacher, with an engaging style and outstanding gifts for digging into the Bible and explaining its meaning and application. For me personally, he quickly became a trusted colleague, a wise counsellor, and a very dear friend. He came "under care" with the North Texas Presbytery in February 2015.
On July 24, 2016, Dustin led a team in launching an Evening Service at Christ Church, with Dustin preaching, Whitney organizing, and Colin Deay and Nick Moore leading music. The name was soon changed to "The Parish Project," with the expressed goal of reaching out to our neighborhood. With Dustin's pastoral leadership and faithful Bible teaching, the service grew into a tightly-knit community, with great passion for Christ-centered ministry and worship. The congregation shared lots of meals together and many hours of fellowship around the Word. We even celebrated two weddings--the highest ratio of weddings to church members I've personally ever seen!
Through all of Dustin's time at Christ Church, he has been working on his doctorate--first at the University of Glasgow, then at LaSalle University in Pennsylvania. Somehow he managed to work on his dissertation while (1) preaching, leading services and doing everything he did for us, (2) working full-time at a demanding job at Legacy Christian Academy, (3) writing for several blogs and publications, and (4) being a devoted husband to Whitney. I have no idea how he did it all, but with God's grace, he did. Of course, Whitney was working at Christ Church just as hard as Dustin, overseeing our women's ministry and helping with community group. As they worked, he and Whitney were also thinking and praying about their sense of God's calling on their lives.
In the spring of 2018, just a few months ago, Dustin shared with the Session that he was under increasing pressure to finish his doctorate or risk timing out of LaSalle's program. He also shared that he was sensing a desire to explore ministry options outside the PCA. He stressed how much he loved Christ Church Carrollton, but that he had always been interested in the Anglican Church. I can vouch for that--we discussed Anglicanism during our very first conversation, as mentioned above, and many times since then.
The Session recognized Dustin's urgent need to complete his doctorate and his earnest desire to take time with Whitney to pray and seek discernment, so we granted him a four-month sabbatical. The Parish Project took an extended break, pending the Messers' return, and Dustin was relieved of his regular ministry responsibilities. They were specifically given freedom to visit other churches, which they did, particularly enjoying time at All Saints Anglican Church in Dallas. Dustin met with the leaders there, including the Senior Pastor, my seminary classmate, Bishop Philip Jones, a faithful servant of Jesus.
Dustin is completing his sabbatical this week. After dozens of hours of research and writing, he has accomplished the work on his dissertation that he needed to accomplish. For this, we are very grateful! He has also decided, after much prayer and reflection, that he believes God is calling him to ministry in the Anglican Mission in America. Of course, this is challenging news for us at Christ Church (and for me personally), because we love Dustin and Whitney so much. But we trust the Lord and support their decision and stand with them as they begin their transition to life in a new corner of God's harvest field.
This Sunday, September 2, we at Christ Church will welcome the Messers, to show them our love, to thank them for all they have done for us, and to commission them in the Lord's name for their new work. It's appropriate that this Sunday is also Communion Sunday, when we will break bread in thanksgiving for Jesus. It's never easy to let go of hands we have held onto for a long time, but we know that, in Christ, we are always united in one Lord, one faith, one baptism, one ministry, and one kingdom.
May God graciously bless Dustin and Whitney. May he direct their path and pour on them all the blessings of this life. And may he remind them, in all the time ahead, wherever they go, whatever they do, that they are, and will always remain, a much-loved part of our church family.