My Fourth Hero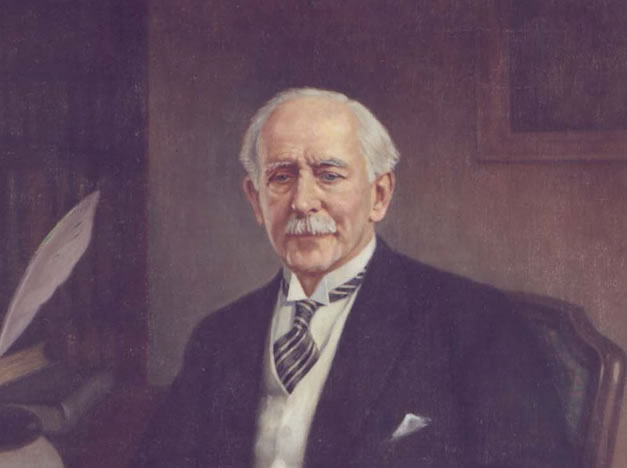 My fourth hero, Otis Allan Glazebrook, is someone I've never met and someone you've probably never even heard of. Born in 1845, he died in 1931, twenty-seven years before I was born. Even so, I can honestly say Glazebrook has had a profound influence on my life. In fact, he may actually have had more influence, in a funny sort of way, than any of my other heroes, and, probably, I wouldn't have met them without him.
Otis Allan Glazebrook was the founder of my college fraternity, Alpha Tau Omega. In 1865, Glazebrook, a Confederate war veteran, had the idea, with two other students at the Virginia Military Institute (VMI) in Lexington, Virginia, to start "a fraternity which would have for its object the bringing about of fraternal relations among all college men in the United States, independent of north and south." In 1881, Glazebrook described the fraternity's founding in these stirring words:
"To bind men together in a brotherhood based upon eternal and immutable principles, with a bond as strong as right itself and as lasting as humanity; to know no North, no South, no East, no West, but to know man as man, to teach that true men the world over should stand together and contend for supremacy of good over evil; to teach, not politics, but morals; to foster, not partisanship, but the recognition of true merit wherever found; to have no narrower limits within which to work together for the elevation of man than the outlines of the world: these were the thoughts and hopes uppermost in the minds of the founders of the Alpha Tau Omega Fraternity."
Lofty goals, with echos of the gospel! If you'd met me and most of my fraternity brothers back in 1977, you'd have never guessed it, but ATO was actually founded as a Christian organization. Glazebrook was a devout believer. Of course, if you think about it, the fraternity's Christian roots are pretty obvious in our name. Alpha and Omega, with a Tau, a cross, in the middle. All symbols for Jesus Christ. Though my early experience in ATO mostly revolved around large amounts of alcohol, the fact is, in God's amazing providence, ATO had a lot to do with my becoming a Christian.
In hindsight, as I look back over my undergraduate years, I realize there were several Christian fraternity brothers who quietly and faithfully witnessed to me. Even though I had nothing to commend me, they put up with my foul language and excessive drinking, and didn't push me away or judge me, but instead showed me the patience and forgiveness and mercy of Christ. In 1978, I responded to the call of the gospel, and the first people I told were my friends in ATO. Glazebrook would have been very pleased!
But Glazebrook's influence in my life didn't end there. After he founded ATO and graduated from VMI, he went, not into the practice of law, as he had originally intended, but into the ordained ministry of the Episcopal Church! In 1986, I also decided, like Glazebrook, not to go to law school, but to seminary, and, when I was choosing which seminary to go to, the only one I'd ever heard of was the one Glazebrook went to--the Virginia Theological Seminary in Alexandria, Virginia. It was while I was at Virginia that I met Dick Lucas and J.I. Packer—and my wife of thirty years, Leslie Smith! In 1989, when I was ordained in the Episcopal Church, I was following in my hero's footsteps by almost exactly one-hundred-and-twenty years.
The last thing I'll mention about Glazebrook's influence has to do with what he did later in life. After being ordained, Glazebrook pastored Episcopal churches in Virginia, Maryland, Georgia, and finally in New Jersey. While at St. John's in Elizabeth, New Jersey, Glazebrook became close friends with a scholar and rising star at nearby Princeton, a fellow Virginian, a Presbyterian, named Woodrow Wilson. Wilson became Governor of New Jersey in 1911, and in 1913 he was elected the 28th President of the United States.
After his election, Wilson asked his old friend, Otis Allan Glazebrook, who had just recently retired from ministry, to serve his country as the first US Consul in Jerusalem. Glazebrook served courageously and faithfully throughout World War I, earning the respect and affection of Jews, Muslims and Christians, all of whom he befriended and protected. It was noted by many that Glazebrook studied his Bible and prayed every day while he was in Jerusalem. After the war, he represented the US as Consul to France. In 1931, at 86 years of age, he died and was buried at sea on his way home to Virginia.
My ministry and my time of public service have been shorter and not nearly as distinguished as Glazebrook's. I worked in politics right after college, in Alaska and in Washington, DC, and I've been a very poor minister compared to him. But Glazebrook's model of Christian faithfulness--in the church and in politics--has made him my hero for as long as I can remember. As it's worked out, much of my life has been a feeble imitation of his.
I thank God for Otis Allan Glazebrook, my fourth hero, my senior colleague in the ministry, my model in public service, my fraternity brother, and my beloved brother in Christ.