In Praise of Grace DC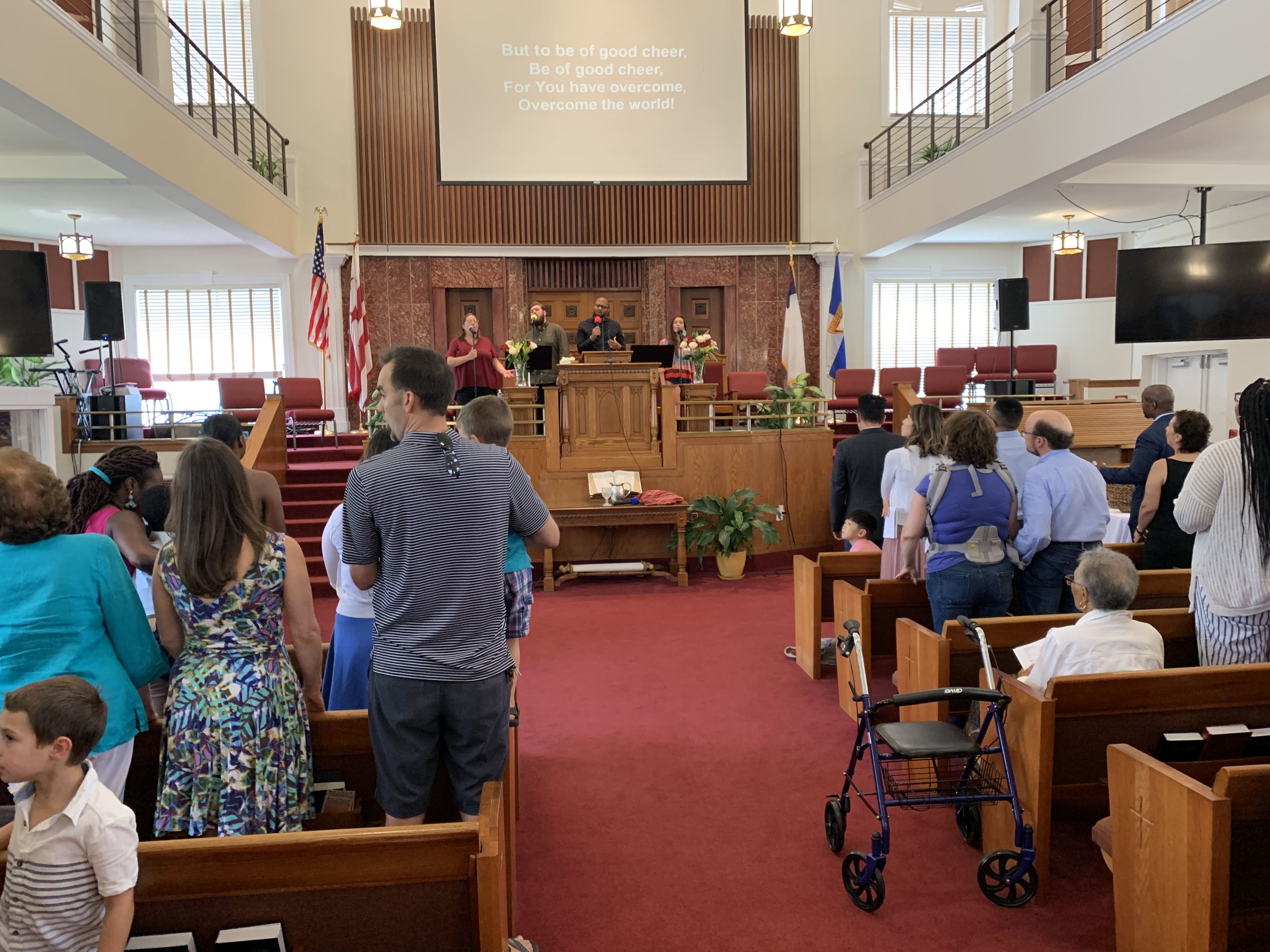 My trip to Washington to drop off my son James was a blast! James, his brother John, and I checked out Meridian, Mississippi; Atlanta, Georgia; Asheville, North Carolina; Kitty Hawk, North Carolina; and Gettysburg, Pennsylvania. We see so many interesting and beautiful things and places!
For me, the highlight was spending Sunday morning with folks from Grace DC, my son Will's church. There are actually three congregations—Grace Downtown, Grace Mosaic, and Grace Meridian Hill. This past Sunday, June 16, was their annual church-wide meeting, with all three congregations meeting together for fellowship, worship, prayer, and Bible instruction.
From the church website: "Grace DC is one church made up of a family of congregations in and for Washington, DC. Our city is diverse, with each cluster of neighborhoods with their own personality, needs and opportunities. Taking part in the life and history of a particular neighborhood allows each Grace DC congregation to give the Christian faith fresh expression. We are excited to play a small part in the big work that God is doing in our city."
Isn't that awesome?! It's exactly what we're trying to do at Christ Church Carrollton. There are four things I particularly love about Grace DC's vision:
First, all three congregations are intentionally multi-cultural. The leadership is ethnically diverse and so is the congregation! There's something beautiful about seeing people of such diverse backgrounds all united in Christ. Of course, the Bible actually tells us that heaven will be like that too.
Second, all three congregations are intentionally diverse across socio-economic lines as well. The sermon for this Sunday (from Romans 15:7) actually spoke to this aspect of church life. "Welcome one another," wrote the Apostle Paul, "as Christ has welcomed you..." That's clearly what Grace DC has been doing for twenty years.
Third, Grace DC seeks to show the love of Christ to the specific communities they serve. My son and his wife attend the Downtown Congregation, where they are surrounded by the highest concentration of both the wealthiest and the neediest in DC. It was impressive to hear the ways they show Christ's love in so many concrete ways!
Fourth, Grace DC has a vision for planting churches. Today, Grace DC is a network of three thriving congregations, but they started as one small congregation primarily serving Capitol Hill. As they've grown, rather than building a bigger and bigger "mega-church," with thousands of members, they've built three medium-size congregations, nurturing the central vision for diversity and community service.
I'm looking forward to learning more about Grace DC and their remarkable ministry. Watch for more information in the weeks ahead.