Finding Downtown Carrollton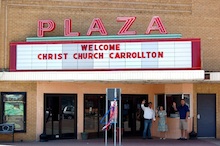 It was approximately seven years ago that the Lord led me to Downtown Carrollton. It was in the middle of the night, and I was out searching for a place for my small church to move after making the painful decision to leave our former denomination.
I had originally looked along the Dallas North Tollroad, between 635 and George Bush, but there wasn't much available, and what I did find was prohibitively expensive. That particular night, I decided instead to look along 35E, far humbler than the Tollroad and several miles further from our old location in North Dallas.
I remember praying that night as I drove north along 35, asking God to open some door for us. With just days before we had to move, my eyes searched desperately for a meeting space and a place to call home.
Just as I passed the exit for Belt Line Road, I looked down from the 25-foot elevated highway and noticed a brightly-lit Square with an old theatre at the south end. I actually remembered being there years earlier when I had visited the Babe's Restaurant at the north end.
I pulled off that night onto Sandy Lake Road, doubled back to Belt Line, and made my way onto the Square. I drove past the stores over to the Plaza Arts Center (the old Plaza Theatre) and parked my car. As I looked at the marquee, I noticed a smaller sign that said, as best as I can recall, "Looking for a venue for your meeting or event? You've found it!"
I could have cried. In fact, I'm pretty sure I did cry. When I saw that sign and looked around at the old Square, I had an immediate sense that this was the place where God wanted us to be.
Sure enough, the next morning when I called the number on the sign, God answered my prayer and opened a door for us to rent space in the Plaza at an affordable price beginning that weekend. My family and church leadership all shared the sense of call.
A few days later, on Sunday, July 18, 2010, Christ Church Carrollton had its first meeting in Downtown Carrollton. It was a glorious day. I preached on Luke 9:21-26, where Jesus told his disciples to take up their crosses and follow him.
God was gracious from the beginning. Even more than the meeting space — after 18 months we actually moved across the Square to the historic Oldfield Building — God immediately began to open doors of relationship. It seemed I made many more meaningful relationships in my first month on the Square than in my fifteen years in North Dallas.
So many friends come to mind. There was Jan Smith (the manager at the time of the Plaza), Clarence Teng (the owner), Dave Oldfield, Pat Malone, Susan Myers, Nan and Shaun Walvoord, and my dear friend Milburn Gravley, who died a couple of years ago. These friendships have stayed with me ever since.
Today, as Pastor of Christ Church, God continues to hold my life in his hand. I belong to Christ, and as I seek to take up my cross each day and follow him, I know he will lead me wherever he wants me to go. There'll never be any argument from me. But to whatever extent it is up to me, I hope and pray to spend my remaining time right here, on our little Square.
And whether it's days or decades, as God graciously gives me life and breath, I will seek to serve him and to minister in his Son's name to the people who live, work, play, pray, and do business in Downtown Carrollton. This blog, in my own poor words, will seek to express my love for them all.