Christ Church's Front Yard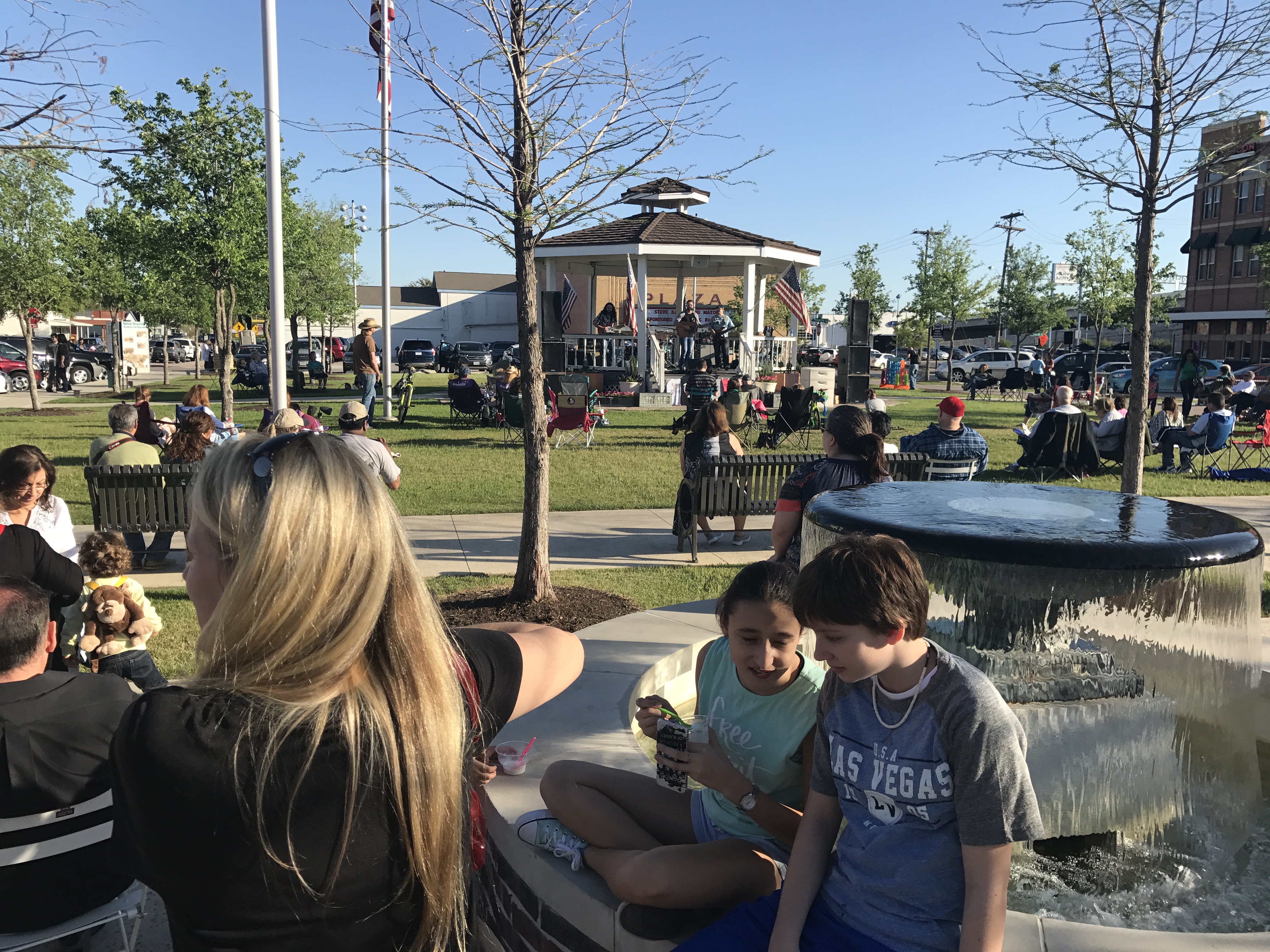 At the center of Downtown Carrollton is a lovely little half-acre Square I often call Christ Church's "front yard." It is, after all, right outside our front door! The old gazebo, two brand-new fountains, and the landscaped grass, trees and flowers are a calming balance to the frenetic buzz of Interstate 35E and Belt Line Road, especially in the midst of all the current multi-year road construction projects.
The Square has actually been here longer than the city itself. In 1900 and 1901, before Carrollton was officially incorporated in 1913, the Myers family filed plats for two pieces of property that would form the familiar rectangle. Streets were built, shops were opened, and a place was formed where generations of Carrolltonians would gather.
Over a hundred years later, the Square is still very much the center of community life. A few weeks ago, in early March, the Downtown community welcomed several thousand friends to "TexFest 2017," a celebration of Texas Independence featuring great Texas music, food and fun! Last November, we hosted the "2016 Festival at the Switchyard" where as many as 30,000 people celebrated Carrollton's history as a transportation hub for all of North Texas. The 2017 Festival promises to be even bigger!
To be honest, in 2010 when Christ Church first settled in Downtown Carrollton, the Square wasn't as beautiful or as welcoming as it is today. The gazebo was where it is now, but it was surrounded by a fairly bland, asphalt-covered parking lot. A couple of years ago, thanks to a visionary Mayor and City Council, the city did a reverse on the old Joni Mitchell song and tore up the pavement and put in a little slice of paradise.
There are now over sixty stores and businesses in Downtown Carrollton, everything from a church, a lawyer's office, and a couple of insurance agencies to awesome restaurants, boutiques and antique stores. I'm told the Babe's Chicken Dinner House at the northeast corner of South Broadway and West Main Streets is one of the busiest restaurants in the area. Cane Rosso, El Rincon, Twisted Root, 55 Degrees, Sid's Rainbow Grill, C2 Café, Wonderful World of Cooking, Amici's, Beth Marie's, and Monkey Noodle King add to the wonderful mix.
One of the most interesting aspects of my job as Pastor of Christ Church Carrollton is that, increasingly, I am also Pastor to all the diverse people who live, work, play and do business on the Square. With the full blessing of my church, I seek to serve the business owners, their employees and a lot of their customers, as well as residents, tourists and City staff. As a result, pretty much every week, I get prayer requests, theological questions, speaking invitations, requests for advice, and more than a few desperate cries for help. What a privilege to serve Christ in this remarkable place!
So, yes, I love our church's hundred-year-old "front yard"! Whether we are celebrating together, mourning, reflecting or just hanging out together, there is no place I'd rather be than in Downtown Carrollton, Texas!